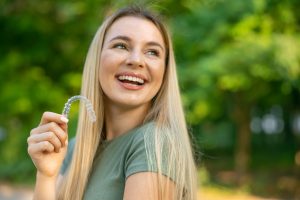 When you look at your smile in the mirror or in a photo, do you find yourself focusing on gaps or overlaps between your teeth? Many people have doubts about the way they look because of problems with the alignment of their smile. What you may not realize is that fixing your issue can be easier than you think possible. Our Walnut Creek, CA dental office provides an effective cosmetic solution in the form of clear aligners. With these clear, custom-made appliances, we are able to gradually move your teeth into their ideal positions so that spacing issues no longer make you self-conscious!
Do Spacing Problems Affect Your Smile?
Many people have teeth that look out of place because of how their smiles are aligned. Unflattering gaps between teeth may exist, or they can have teeth that look crowded or out of alignment because they are too close together. Metal braces can help with this matter, but not everyone feels comfortable with such a conspicuous treatment approach. In addition to worrying about the cosmetic impact of metal braces, they can also worry about how they will adjust to having them set in place for the duration of their adjustment. If you want to do something about poor spacing but feel uneasy with traditional treatment, our practice can recommend clear aligners as an alternative!
Using Clear Aligners To Discreetly Correct Your Appearance
A custom set of clear aligners are able to guide teeth into their ideal positions while minimizing the effect of cosmetic treatment on your daily life. We will capture detailed images of your smile, with both 2D and 3D images reviewed to make sure we have the right adjustment planned out. From the information we gather, we can have aligners made just for your smile. Wearing each one for a set length of time will help you make progressive changes until your smile is free of alignment flaws!
What To Expect As You Use Your Clear Aligners
Each clear aligner you wear will take your smile part of the way to its final alignment. As you wear these appliances, you can be happy to see how little effect they have on the way you look. You can also appreciate how easy it is to keep up with daily activities like cleaning your teeth and eating despite their presence, as they are easy to remove. We can check on your progress throughout your adjustment. Like your general dental exams, appointments to monitor your progress will be important to your smile!
Talk To Your Walnut Creek, CA Dentist About Cosmetic Treatment With Clear Aligners
If you would like to learn how clear aligners can improve your smile, call our Walnut Creek, CA dentist's office today at (925) 930-8465.